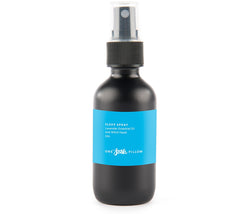 Drift off and dream. This calming, gently-fragranced lavender spray soothes the senses so you can get some zzzs.
DESIGN
Just a few sprays before bedtime (or anytime), and you'll get mellow in no time. Our lavender-scented Sleep Spray gives your bedding and bedroom a fresh, calming fragrance to help you drift off peacefully. Its small size makes it perfect for misting on the go.
SIZE
2-ounce spray bottle with cap
MATERIAL
Lavender essential oil and witch hazel
---
CARE + USE
Our Sleep Spray is intended for bed linens only. We recommend testing on a small area of linens first. Do not use if you are allergic to lavender or witch hazel. Avoid contact with your eyes or skin. Wash immediately upon contact. Discontinue use if you have an allergic reaction.
---
SHIPPING + RETURNS
We will refund 100% of your purchase price (less shipping costs) if returned within 30 days of receipt.
See the full return policy here.
Everything for a good night's sleep