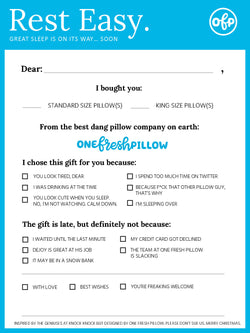 Delayed Gift Delivery Certificate
Still waiting on your gift to arrive? Give this fun certificate as a placeholder until your pillows get to you.
DESIGN
Our double-sided, hypoallergenic pillow is designed to support back and side sleepers and to ensure proper support for your spine. Both sides are made of a custom blend of synthetic materials because we love animals.
SIZE
Standard: 20" x 28"

King: 20" x 36"
MATERIAL
Side 1: Firm support from 100% polyurethane shredded memory foam. Our foam is shredded to exact specifications to be pliable, not lumpy.

Side 2: Soft comfort from 100% polyester faux down fibers. Our siliconized fibers are treated to be resistant to moisture and dust accumulation.

Everything in Between: A breathable membrane separates our dual-sided design while allowing air flow between chambers.
CARE + USE
Before we go to bed...

...here's how to take care of your new pillow. Use a pillowcase and fluff by hand when needed. Want to give it some extra fluff right out of the box? 10 minutes in a cool dryer will do the trick.

If the exterior of the pillow gets soiled, wipe it with a damp cloth and let it dry completely before putting a pillowcase back on. We never recommend washing any memory foam pillows, because they hold water like a sponge. Air drying takes days allowing mold and mildew to form, and the heat from a dryer breaks down the polymers of the synthetic materials.

When this pillow has reached the end of its useful life, let us know. We will send you a mailer bag to return the pillow to a recycling center.
SHIPPING + RETURNS
Not everything you dreamed it would be? Rest easy, we've got your back.

You have 30 calendar days from delivery to request a refund.*

We recommend sleeping on your pillow for at least 7 nights to give your body time to adapt. You can also call or email us if you need help in optimizing your sleep experience. If One Fresh Pillow™ isn't right for you, maybe someone you love will think it's a perfect fit. Let a friend or loved one try it for a few days. If it's just not going to work, contact us and we will process your refund minus the shipping costs.*

Every time you get a fresh pillow, you'll get a pre-paid shipping label to mail your old pillow to our partner recycling facility.

*Yes, you read that right. We will give you a refund of your purchase minus shipping costs. We do not ask you to return the pillow as we cannot sell it or donate it. We trust that you will be cool and not take advantage of our policy. We reserve the right to request the items be returned. You may also choose to return the items to our recycling facility. In either instance, we will provide a mailer bag with prepaid shipping.

See the full return policy here.